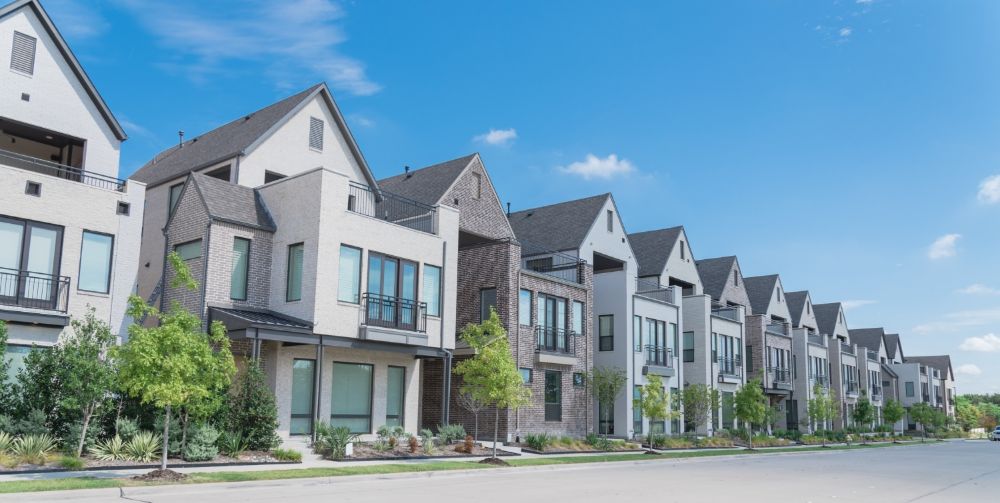 Navigating through the ever-evolving real estate market, you'll find a beacon of opportunity shining brightly - newly constructed homes. These properties are more than just bricks and mortar; they are blank canvases waiting for you to paint your life's story. Bursting with potential, these homes capture the imagination of homebuyers looking for a fresh start. But it's not just the allure of a new beginning that makes these homes so attractive.
The prime locations they occupy add a whole new dimension to their appeal. A home's location can dramatically influence the quality of life for its occupants, providing the convenience of nearby amenities and a suitable neighborhood environment. The rising demand for these well-located, newly constructed homes is thus no surprise. It's a thrilling trend that we'll unpack as we delve deeper into the vibrant world of new real estate.
Ready to explore a range of carefully selected home communities in prime locations like Dallas or Texas? Let's embark on this exciting adventure together. Contact us today, and let NewBuilt.RealEstate™ guides you towards your dream home, where the canvas is blank, and the possibilities are endless.
👉Also read: The Best Home Builders In Texas For 2023
Benefits of Opting for New Construction Homes
New construction homes are modern marvels, designed with current trends and technologies in mind. They are untouched residential properties, built from the ground up, waiting for their inaugural homeowners. Unlike pre-owned houses, these homes allow buyers to experience that unique, exhilarating feeling of being the first to live in a space that's crisp and clean.
But the allure of new construction homes extends beyond novelty. They embody a unique set of benefits, starting with customization. These homes are essentially blank canvases, offering you the freedom to personalize your living spaces as you please. Want a home office or a chef's kitchen? Maybe a gaming room or a home theater? With new construction, your home is tailored to your needs and lifestyle.
Newly constructed homes span a wide range of sizes, from quaint 1,500 square feet residences to palatial 18,000 square feet estates. This diversity of options ensures that there's something for everyone, regardless of their requirements. Whether you're looking for a cozy starter home or a sprawling family manor, new-construction homes have you covered.
Also noteworthy is the trend towards planned communities for these construction projects. A planned community integrates homes, amenities, and shared spaces into a cohesive environment, fostering a sense of community while ensuring you have access to conveniences and amenities. It's like living in a microcosm, where everything you need or want is just a stroll away.
There are several new construction homes for sale in Texas. These new home communities often feature parks, walking trails, fitness centers, pools, and even retail spaces, creating a lifestyle that revolves around convenience and a strong sense of belonging. Living in such a community can enhance your daily life by making social interactions easier, providing opportunities for activities and events, and promoting a more active and engaging lifestyle.
Discovering Your Perfect Home Location with NewBuilt.RealEstate™
The quest for the ideal home location can be as exhilarating as it is essential. The location is not just a geographical spot; it sets the tone for your lifestyle, comfort, and satisfaction in your new home. A prime location aligns with your lifestyle needs and desires, offering the perfect blend of convenience, connectivity, ambiance, and security.
Imagine waking up in a neighborhood that complements your daily routine. An area where the daily commute is short, recreational spots are nearby, quality schools are within reach for your kids, and healthcare facilities are conveniently accessible. This is the power of a preferred location.
Dallas, TX stands as a shining example of a city offering diverse, vibrant neighborhoods that cater to various lifestyle needs. Known for its thriving economy, cultural diversity, and plethora of amenities, Dallas has become a prime location for many.
At NewBuilt.RealEstate™, we believe that finding your dream home shouldn't be a daunting task. That's why we've created a revolutionary approach to simplify the search for newly constructed homes, builders, and communities. Built on a foundation of strong relationships and powered by cutting-edge technology, NewBuilt.RealEstate™ empowers buyers like you with the resources, education, and knowledge necessary to make the perfect investment for your family – at the right price, in the ideal neighborhood, and with the perfect builder.
Our distinctive process sets us apart. We understand the nuances and challenges of the new construction process, and we tailor our services to match your unique situation and criteria. Specializing in new construction home sales, contracts, and negotiations, and boasting an extensive network of builder relationships, NewBuilt.RealEstate™ is your ultimate partner when seeking to purchase a new construction or newly built home.
Navigating the Builder Relationship: Your Key to Informed Homebuying
Embarking on the journey of purchasing a new construction home involves many intricate steps. One of the most significant steps is directly engaging with the builder. Why? Because the builder possesses in-depth knowledge and details about the property that no one else can provide. They can offer crucial insights into the construction process, design possibilities, warranties, and more, making them an invaluable resource for homebuyers.
At NewBuilt.RealEstate™, we prioritize maintaining clear lines of communication between buyers and home builders. We encourage potential homeowners to approach our dedicated team of builders with all their queries, doubts, and requests. The objective is to provide complete transparency and a platform for a seamless interaction that ensures buyers make informed decisions.
Our team offers comprehensive assistance, guiding buyers throughout their journey, from initial inquiry to final purchase. Our builders don't just construct properties; they build relationships based on trust and satisfaction.
👉Also read: Buying a New Home is Simple with NewBuilt.RealEstate™
Ready to Discover Your Perfect Home in Dallas, TX? Start Your Journey with NewBuilt.RealEstate™ Today!
Don't let the search for your dream home become overwhelming. Experience a new way of finding your ideal newly constructed home, tailored to your unique preferences, with NewBuilt.RealEstate™. Our dedicated NewBuilt Ambassadors™ are eager to guide you through the process, from identifying the right community and builder to securing unbeatable deals and incentives. Take the first step towards a seamless home-buying journey by reaching out to us today at (214) 396-8966. Your dream home is just a click away!