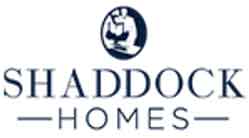 About the Builder
Peter H. Shaddock has been building homes for over fifty years in the Dallas/Fort Worth Metroplex. His company, Shaddock Homes, has become an award-winning builder who cares and takes pride in their homes. We have earned a reputation for distinctive designs, superior craftsmanship and homeowner satisfaction.
After all these years Shaddock Homes remains a family-run company under the leadership of Peter H. Shaddock, Peter Shaddock Jr, and Beth Shaddock. Our team consists of dedicated professionals who work diligently to build dream homes for every buyer.
We know that your home is the foundation for your family's lifestyle, and we make sure your new home meets your expectations. Our homes and communities are designed to reflect the way families and individuals live today. We stand behind every home we build with a solid warranty program. We would value the opportunity to turn your dream of a new home into reality!
Shaddock Homes has an unparalleled reputation among Dallas area home builders. Led by Peter Shaddock, this team has been creating elegant homes for fifty years, striving to make the Shaddock name synonymous with superior craftsmanship and excellent customer service, becoming the luxury home builder Dallas trusts.