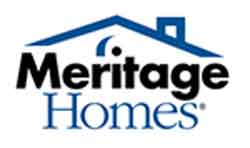 About the Builder
Building for you, at a higher standard.
Since 1985, we've invested millions of dollars in a relentless pursuit of building better, smarter, healthier homes through game-changing, money-saving energy efficiency*, thoughtful design and higher building standards.
Earning the right to be your builder.
Experience Life. Built. Better.®
After 36 years, we've delivered more than 155,000 homes. Along the way, we've defined what quality homebuilding means, and how that translates to a better home for you. See how we're putting our experience to work.*
Building a track record of success.
We're a nationally recognized leader in the homebuilding industry who does things differently, and it has people talking.
Giving back where we build.
We're committed to building better homes and stronger communities while giving back to those who serve and those in need.
30+ years of building strong communities.
Supporting communities through giving is a cornerstone of our business and a belief that guides us. Building on a long tradition, we continue to shape stronger communities and neighborhoods across the country.
We build great careers, too.
From constructing a home of their dreams to handing over the keys, you're a vital piece to helping families across the nation make lasting memories. Discover a career you can build your future on.
Building where you want to live.
We're proud to build homes that are located in desirable locations from coast to coast.