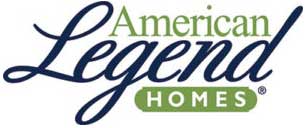 About the builder
At American Legend Homes, we create more than just innovative designs. We emphasize the importance of building enduring relationships with our clients and achieving unparalleled customer satisfaction.
American Legend Homes is a family and employee-owned, award-winning organization focused on thoughtful designs, quality craftsmanship and superior customer service. Since 2003 we've built thousands of homes in North Texas and are proud to have expanded into Colorado in 2018.
Drawing upon a combined 75 years of homebuilding experience, our leadership team ensures that every member of the American Legend family understands the critical role they play in building trust and developing long term relationships with each homeowner.
"Built for the way you live" isn't just a tagline; it's an operating mantra that defines who we are and our commitment to provide the absolute best customer experience throughout the homebuilding process.
We take an immense amount of pride in making dream homes a reality, and would be honored to partner with you on that journey.
Awards & Recognition
While the best barometer of our success is our satisfied home owners, American Legend Homes has been the recipient of numerous awards and recognition from respected peer groups and local industry business rankings.
Largest Family-Owned Businesses 2022
Dallas Business Journal 2022
Best of Aurora 2022
Home Builder - Hilltop 55+ at Inspiration
Best of 2021
Dallas/Fort Worth New Home Construction
Best Design for 2021
NOCO Parade of Homes
Best Bathroom for 2021
NOCO Parade of Homes
Best Interior Design for 2021
Denver Parade of Homes - Home Prices $600,000 - $749,999
Best Kitchen for 2021
Denver Parade of Homes - Home Prices $600,000 - $749,999